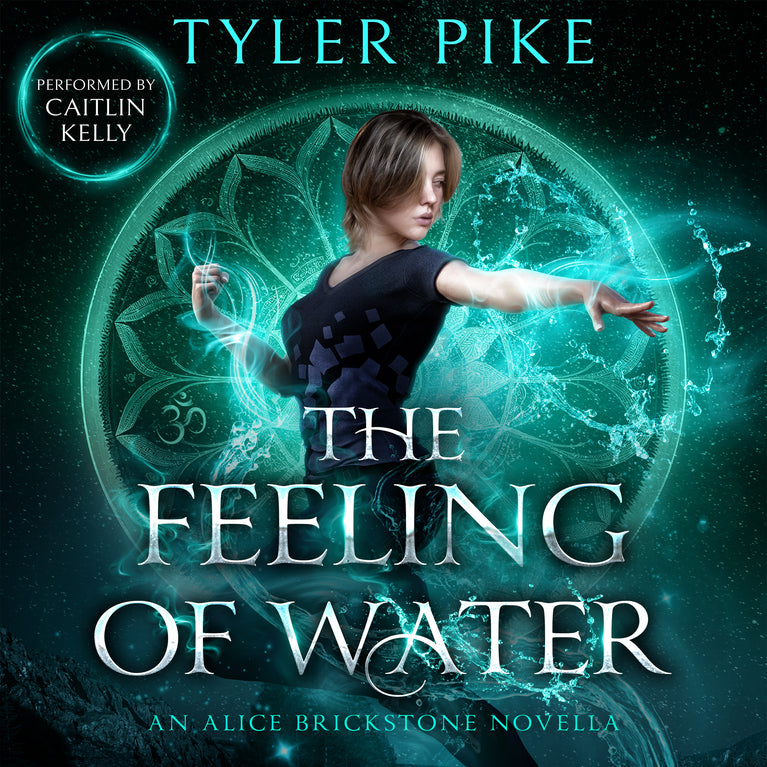 Book Two in the magical Alice Brickstone series from bestselling author Tyler Pike.
Narrated by Caitlin Kelly (bestselling narrator for Holly Black, Shannon Messenger, Elise Kova)
About this premium Audiobook novella: 
Prefer a different format? Click here.
She lost her life in the water. Time to get it back. 

Karan is recovering from an accident that left her disfigured and amnesiac. She's twenty-one, remembers no one and nothing about her life, and has an irrational terror of water. Then she meets Alice: seventeen, fearless, strong. Bigger than life but strange and secretive. When Alice forces Karan to face her worst fears, together they unleash a much more immediate and violent terror than drowning. Karan nearly died before, and now someone is determined that she doesn't escape this time. Will Alice's abilities and her reckless courage be enough to save Karan? Or are they both headed for an icy death in the water? 

THE FEELING OF WATER is a novella-length sequel to GIRL IN THE AIR, in the ALICE BRICKSTONE series of page-turning, fast-paced, magical adventures for young adults. These are suspenseful, fun, and thought-provoking books inspired by Indian myth and the Harry Potter tradition. Gritty and realistic, the series is shelved under YA urban/contemporary fantasy. The stories are about anxious and lovable characters in the real world. They have complicated relationships and are always learning and growing. Alice and her friends are a strange combination of loners and athletes, have great chemistry despite their problems, and find a way to work together to overcome the dangers they face.
Try it now; you'll fall in love.

"If you haven't discovered this wonderful series by Tyler Pike, you need to read this novella [The Feeling of Water] and the full-length book Girl in the Air as soon as possible."

"I loved The Feeling of Water. It's one of the few I've kept on my phone. I reread it when I'm bored, or out of service or feeling nostalgic. I'm a medic so I sit a lot, usually out of service." – Celeste Gagne
"As she helps Karan figure out the mysterious events surrounding a tragic auto accident that disfigured her and left her with amnesia, you also get to learn a bit more about Alice herself and see her make a new friend in her own unique and inimitable way." - Donna Thompson
"Alice is a wonderful character, unlike any I've seen in today's fiction. She's the most wonderful mix of contradictions and is at once both offputting and loveable. There's no one quite like Alice."
"This short second installment of the Alice Brickstone series is one that is intense and very well-written. It is a short piece of work that has a twist, really kept me engaged from the beginning to the end, and is hard to put down." – Heidi
"A definite 5-star rating book and highly recommended for those who like short suspenseful reads!"
"Fantastic storyline and characters." – Hayley
The story is interesting and holds your attention as it rushes to its conclusion! – Chad Barrus
A short but intense and absolutely riveting novella by Tyler Pike, Rosemary Kenny
How does this audiobook work?
Purchase AUTHOR-DIRECT and save!
Subscribe to the private podcast feed (sent by email) in your favorite podcast app
ENJOY!
Prefer a different format? Click here.